I am not an outwardly religious person.
I do not go to church anymore because the Clergy are selling out to popular things like Gay marraige and Islam.
But, I was raised by a father that could recite--verbatim--whole chapters of the Bible.
Mainly, because his father was a Methodist preacher.
Down through the recorded history in the Bible, you have people who were expected to LOSE.
David vs Goliath
Joshua and his troops at Jehrico
Daniel in the Assyrain lion cage
Tim Tebow
http://www.timtebow.com/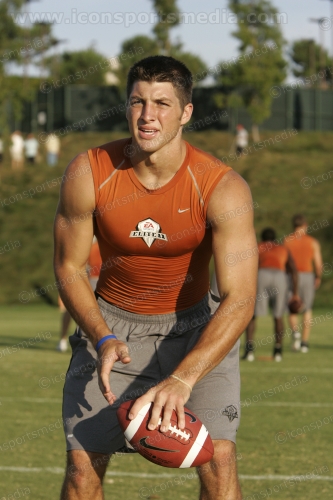 Is not the biggest NFL quarterback, not the fastest, and many Football aficianados proclaimed when Tebow was drafted that,"He will never make it in the NFL", "He can't throw a pass", etc.
Tebow has been "Making it" since he was born.
Tebow was born in
Makati City
in the
Philippines
, the son of Pamela Pemberton Tebow, daughter of a U.S. Army colonel, and Robert Ramsey Tebow, a pastor, who were serving as
Christian
Baptist
missionaries
at the time.
While pregnant, his mother suffered a life-threatening infection with a pathogenic
amoeba
. Because of the drugs used to rouse her from a
coma
and to treat her
dysentery
, the fetus experienced a severe
placental abruption
. Doctors had expected a
stillbirth
and recommended an
abortion
to protect her life,
but she remained undaunted and refused having an abortion.
http://en.wikipedia.org/wiki/Tim_Tebow
In 2010, a new rule for the next NCAA football season, dubbed "The Tebow Rule] by media because it would have affected him, banned messages on eye paint. During his college football career, Tebow frequently wore biblical verses on his eye black. In the 2009 BCS Championship Game, he wore John 3:16 on his eye paint, and as a result, 92 million people searched "John 3:16" on Google during or shortly after the game. Additionally, later, when Tebow switched to another verse, there were 3.43 million searches of "Tim Tebow" and "Proverbs 3:5-6" together. Tebow stated of the searches "It just goes to show you the influence and the platform that you have as a student-athlete and as a quarterback at Florida".
The NFL already has a rule like this in prohibiting players from wearing messages on eye black; so, Tebow would not be able to continue the practice in the NFL.Despite the media labeling it as the Tebow rule, the NCAA denies the rule was influenced by Tebow particularly, since many other notable players (Reggie Bush and Terrelle Pryor for example) wear or have worn messages on eye black.An NCAA spokesman said "When this rule was proposed the committee did not focus on any one team or student athlete. That measure reinforces what the intended use of eye black is, which is to shade the eyes from the sun.
*To his most fervent supporters — and there are many — Tebow was never just a quarterback. He was a champion of Christianity in shoulder pads, a wholesome, fearsome football player who loved God and touchdowns, in that order. If detractors found Tebow preachy, if he seemed too good to be true, he still won two national championships and a Heisman Trophy at the University of Florida, securing his legend as one of the greatest college players ever.*
================================================================
http://www.nytimes.com/2011/11/08/sports/football/in-tebow-debate-a-clash-of-faith-and-football.html?pagewanted=1&_r=1
Drafted last year by the Broncos, he played sparingly his rookie season. Now, his struggles to adapt to the N.F.L. have changed the tenor of the debate around him, made it nastier, more personal, more intense. Supporters have reacted to criticism of Tebow as an indictment on religion, while detractors seem to delight in every wayward pass.
Just last year, Tebow drew national attention for his antiabortion commercial broadcast during the Super Bowl. In the past three weeks, he has become the most discussed and most polarizing figure in sports, strange territory for a replacement player on a last-place team. Opponents mocked his celebration pose — kneeling, in prayer, which became an Internet meme known as Tebowing — and his coach offered a lukewarm vote of confidence.
One columnist in Denver called Tebow the worst quarterback in football. Another columnist in Canada labeled Tebow the "Kim Kardashian of sports," for the intense reaction he elicited. Online, the torrent of mockery and criticism has been fierce. Blog posts included "God explains why he let Tim Tebow fail" and Twitter exploded in hateful vitriol, to which the Sports Illustrated writer Joe Posnanski mused: "I believe Tim Tebow isn't an N.F.L. starter and I want him to prove me wrong because I believe he's a great guy. Is that allowed?"
"The role religion plays here is enormous," said
Kurt Warner
, the former N.F.L. quarterback and
a similarly outspoken Christian athlete
. "When somebody professes their faith, and I was that guy for a long time, people automatically think when you praise God it's because He makes passes go straighter or helps win games. When you lose, they say, your faith doesn't belong here. Your God's not helping you win."
++++++++++++++++++++++++++++++++++++++++++++++++++
NOTE: Kurt Warner was the same as Tebow--Not the biggest, fastest, etc, but he has two Super Bowl rings.
In my view, Tebow and Warner both have God's help. In this day of athiests and pagan worshippers, it is great to see a mna demonstrate the power of the Lord
Below is the video from last night. Denver was not picked to win.
Published: Nov. 18, 2011 at 12:34 a.m.
125,913 Views
Tags: Tim Tebow
01:36 – It didn't look good for the Broncos. Down a field goal, with 95 yards to go, chances of victory were bleak. But Tim Tebow led his team down the field to beat the Jets 17-13
http://www.nfl.com/videos/auto/09000d5d8243b64f/Tebow-s-game-winning-drive