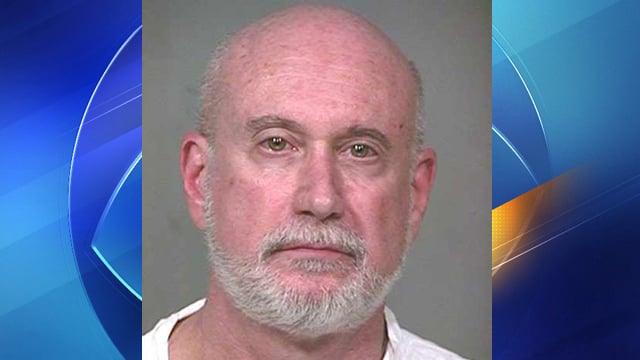 SCOTTSDALE, AZ (KPHO) -
http://www.kpho.com/story/16017501/police-arrest-man-in-fatal-scottsdale-road-rage-shooting
A judge set bond Monday at $500,000 for a Scottsdale lawyer in a fatal road-rage shooting in north Scottsdale.
Police said 59-year-old David Ross Appleton was arrested and booked into the Fourth Avenue Jail in Phoenix on a charge of second-degree murder.
RELATED: 1 dead in Scottsdale road rage shooting
RELATED: David Appleton makes court appearance
Officers said they found inconsistencies with the physical evidence, witness interviews and his account of what led to the shooting death of 50-year-old Paul "Tom" Pearson on Thursday night.
Appleton told police another motorist was tailgating while he was northbound on Pima Road about 7 p.m. Thursday so he pulled into a shopping center parking lot behind a CVS pharmacy at Pima and Pinnacle Peak roads.
Appleton said the car followed him into the parking, the driver got out and reached into an open window of Appleton's Toyota SUV and began choking him, officers said.
Appleton said he pointed a revolver at the man to get him to let go and fired when he continued to choke him, hitting Pearson in the upper chest, according to police.
Officers said Appleton called 911 to report the shooting and was taken to the Scottsdale precinct station near Thompson Peak and Pinnacle Peak roads, where officers interviewed him.
Pearson, who officers said was found on the passenger side of Appleton's vehicle, was taken to Scottsdale Healthcare-Osborn where he was pronounced dead shortly after 8 p.m., police said.
Police said the investigation is continuing.
COMMENT:
I heard today on KPHO that "innocent, responsible" Dave was the aggressor in two previous road rage incidents. Plus the deceased in this incident was found on the passenger side of the car. That must have made choking "good ol'" Dave a bit problematic. Add to that the deceased was on the phone and the other party said no voices were raised makes Dave's claim sound a little
weak.
TERRY
==================================================================
http://www.abajournal.com/news/article/ariz._criminal_defense_attorney_is_charged_with_2nd-degree_murder_in_road-r/
An
Arizona criminal defense lawyer was
charged Friday with second-degree murder after allegedly slaying a fellow motorist in a road-rage incident the previous evening.
Police said attorney David Ross Appleton, 59, told them that victim Paul Thomas Pearson, 50, tailgated his Toyota SUV and followed him into a pharmacy parking lot, where Pearson, Appleton said, reached inside his window and began choking him. At that point, the attorney said, he pointed a revolver at Pearson and, when Pearson didn't let go, shot him once in the chest, according to KSAZ, a Fox News affiliate; Scripps Media, based on information from a local ABC News affiliate; and the Valley Fever blog of the Phoenix New Times.
However,
authorities found no evidence that Appleton had been choked
, and inconsistencies in his story resulted in the second-degree murder charge, the articles say.
A friend of Pearson says he was a gentle man famous for his slow driving and speculated that the incident was sparked when Pearson drove at perhaps five miles below the speed limit. A relative happened to be talking with Pearson on his cell phone at the time and gave an account to police, but it isn't immediately clear what the relative said.
The Scripps article says Appleton had several speeding violations on his driving record. He is a former president of the Phoenix Trial Lawyer's Association.
At last report, Appleton was being held in the Maricopa County jail. As many as 10 of his supporters have been picketing outside, the KSAZ article report